05-23-2017, 12:07 PM (This post was last modified: 05-23-2017, 12:10 PM by Philipinho.)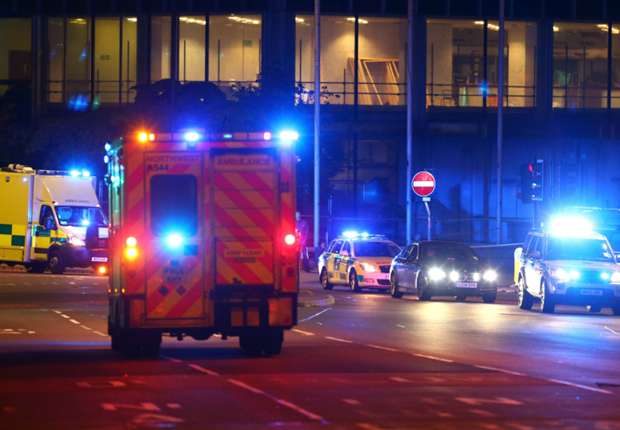 Police have confirmed numerous fatalities and over 50 wounded at an Ariana Grande gig late on Monday night, with Manchester City among the mourners.
At least 22 people have been confirmed as killed in a suspected terror attack in Manchester, UK, late on Monday night, and the football world has begun to mourn the tragic loss of life.
In addition to numerous fatalities, police say over 50 people were injured when an explosion hit outside the Manchester Arena following an Ariana Grande gig.
The likes of Manchester United, Manchester City, players from those two clubs and England football legend Gary Lineker took to social media to express sympathy and support for the victims of the tragedy.
We are deeply shocked by last night's terrible events at the Manchester Arena.
Manchester City
@ManCity
It's with great sadness we hear of the terrible events at the Arena. Our hearts go out to all affected and to our city's emergency services.
1:19 AM - 23 May 2017
Manchester United
@ManUtd
We are deeply shocked by last night's terrible events at the Manchester Arena. Our thoughts and prayers go out to all those affected.
7:05 AM - 23 May 2017
Jesse Lingard
@JesseLingard
My thoughts and prayers are with everyone affected by last nights attack on this beautiful city. We will stand together in this dark hour
7:50 AM - 23 May 2017
Gary Lineker
@GaryLineker
To target children at a concert is beyond comprehension. Beyond lunacy. Beyond evil. Heart goes out to all those who've lost loved ones.
8:57 AM - 23 May 2017
Carli Lloyd
@CarliLloyd
Sickened by what has happened in Manchester. Thoughts go out to everyone. This is literally right around the corner from me. I am safe.
Peter Schmeichel
@Pschmeichel1
My thoughts are with the families and friends of those who have lost loved ones in the attack at Manchester Arena. #StayStrongManchester
7:48 AM - 23 May 2017

Football is all we've got.